Wow! This week went by very fast. So fast that I had a hard time keeping up with myself. :)  However, I did make the time to do some crafting and I would like to share what I did with you. If you have time then pull up a chair, relax  and enjoy.
I made a card this week for the PPA97-Fashion Inspiration-What's Your Signature Style-And Blog Candy!! Even though I have had different styles of card-making throughout the the years my style now is definitely clean and simple.  Once in awhile I like to make vintage cards or Shabby chic but hands down simplicity is my style. This week I have a very simple card to share with you. I think I made my card from start to finish within 15 minutes. What is your signature style when it comes to making cards? I would love to know
Here is my card.
Stamps: My Friend. (Stamp set is in the new SU 2011-2012 catalog) . Card-stock: Very Vanilla, Crumb Cake and Early Espresso. Inks: Early Espresso and Crumb Cake. I used the Top Note die, the new Lace Ribbon Border punch also from the new 2011-2012 Stampin UP!   Last but not least I used a Crumb Cake designer button and used an Early Espresso ribbon for the center of the button.  A very easy and simple card. :)
Here is my page.
I made my page using a photo of  my granddaughter Darcy. The challenge that I used can be found at Soul Scrappers.The challenge was using negative space.  I loved playing in this challenge it was fun and so easy to do.  I used the MDS program from Stampin'UP! I made my Word Art using PSE. 
If you like my Word Art and would like to use it for your own personal use then go to 4Shared to download
it for free.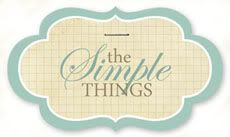 This is the time of the year that I look forward to buying new herb plants. I love using fresh herbs when I cook. This year I added a few extra plants that I do not normally grow indoors.  I bought a new stand and placed them in my kitchen where the sun is the strongest all day.  It makes me feel good to know that I am doing something healthy for Wayne and I and that they are being grown right here in the USA. . :)
 On friday night I went to Darcy's first semi-formal.  She wanted me to take her photos so I did. What a beautiful young lady she is growing to be. All of the kids who were there were wonderful and all looked great! I had so much fun and will share a few photos of Darcy next week.  I love that I was able to be there with Darcy, Molly and Jen to share in such a fun and magical time.
Wayne and I had hoped to go to Shaker Village this weekend but it rained all of Saturday  and today it rained a little but it was chilly and very cloudy. So far our spring has not been our best one. I hope that we have nicer Summer weather. So that was my weekend. My week was very full, very busy,exhausting but lots of fun too.  I  do hope that this week will slow down a bit and that we have great weather.
Thank you very much for stopping by to see me and to see what I have been up to. I apologize for not writing back to everyone who has written to me privately or to those of you who were kind enough to leave a comment on my blog.  I am hoping that things will slow down a bit my way very soon.
I hope that all of you have a wonderful week.As always please stay safe,and Smile. :)