I hope that all of you had a fantastic week! This week I have a few things to share with you. I will try to keep this post as brief as I can. I know that I get a bit chatty and I know that all of you have better things to do then sit at your computer and read what I write. :)
First up is the card that I made for the PPA92-Celebrity Color Challenge .   
Here is my card.
Here is what I used.
Stamp Set: So Happy for You (sentiment). Card-Stock: Whisper White, Poppy Parade, Pear Pizzazz, and Peach Parfait. Ink: Poppy Parade. DP: Sunny Garden. Punches: Two Step Bird Extra- Large and Photo Corners Extra-Large. I used a basic pearl for the bird eye and Pear Pizzazz Stitched Poly ribbon. Easy to make. Can you tell that it is a card made by me? Ha-ha. 
All products listed are form Stampin' UP!
Here is a page that I made for a past challenge at Soul Scrappers.
 
Even though this photo was taken in 2007 I remember the day well. It was very chilly as we all walked to the beach at Kennebunk, Maine.It was a cloudy day and the waves were high. I loved that grandpa Wayne and Juliette shared a private moment together while walking to the beach.  
 
Feel free to download the Word Art that I used for the title of my page at 4Shared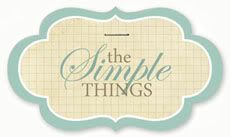 Here is the photo I took this weekend for this weeks "The Simple Things" photo challenge.
 The Gloves
 Taking this photo of Wayne with his work gloves in the back pocket of his jeans is a sign that spring has sprung here at our home. As soon as the weather is warm enough Wayne is outdoors cleaning up the fallen branches and pine cones that were  blown to the ground due to the winter winds. Once the land is clean the flower planting begins. His gloves end up worn from all of the work that he does around our home. Today I bought him a new pair. :)
Lastly, a new gas price photo. This was taken yesterday, 5-7-2011 while Wayne and I were out buying flowers for the gardens. What a strange day it was weather wise. We went from sunny and beautiful to very dark clouds and then pouring rain, back to sunshine. While taking this photo I had a few people come up to me wondering if I was taking a pictuire of a rainbow. I had to smile about that as I politely said "no", that I was taking a photo of the sign with the gasoline prices. :)
 So that was my week. I sure hope that those of you who celebrate Mother's day had a wonderful and very relaxing day. My day was great and at the end of the day Wayne and I went for a 2 mile walk together. What a great way to end my day.
I hope that all of you have a safe, productive and happy week. Smile when ever you can. Smile. :) See you next week.