So how is that for a blog title ? At least you know what to expect when you visit me this week. :)
This past week has been a whirlwind for me. Wayne and I have lots going on with family and with spring things. It has left me very little time to relax, play or to "just be". Only 2 more weeks this month of being busy and then I can slow down.......at least I hope I can.
 This week I was able to participate in the challenge, PPA-Here Comes the Bride. . . AND Blog Candy!!  It was a challenge for me because I have not made a wedding card  in years. I like the way that it turned out and I hope you do too.
Here is my card.
Stamps:Happy Greetings (in the summer SU mini) and Tiny Tags. Ink:Versa Mark and gold EP. Card-stock: Very Vanilla. Punch:Jewelry Tag medium. Die:Beautiful Wings embosslits. I also used, Textured Square Lattice embossing folder, Rosettes Vanilla,Basic Pearls and Very Vanilla satin ribbon.  I wish that my photo had come out better but my lighting was off and I did not catch it until I was ready to blog. No time left to take my photos over. It really is a lot prettier in person.
Here is the scrap page I did this week for a challenge at Soul Scrappers.
This was a very simple and quick page that I made using the MDS program from Stampin'UP! I *love* this program.
 
If you would like the very simple word Art that I used for my page please feel free to download it for free  from  4 Shared.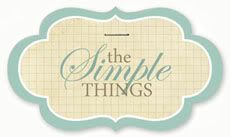 On Thursday, my daughter Jen and my 2 granddaughters Molly and Darcy came to visit me. We only get to see one another once a month so any time I get to spend with them means the world to me. Darcy is the one who is still a bit shy in front of the camera so I always try to take photos of her when she does not know that I am doing it. This is one of my favorite photos of Darcy from this months visit with me. It truly is the simple things in life that mean the most.
This week I was not able to spend as much time with my camera as I would have liked. But I brought it along with me to an appointment that I had. In the many times that I have been to this building I had never noticed this really cool wall in the courtyard. It spoke to me so I grabbed my camera and took a picture of what I was seeing. I call it "The Courtyard" It's one of those photos that you either like or do not like. :)
Last but not least is my last photo of the gas prices my way. I am so happy to say that the price dropped 3 cents this week. Okay not a lot of money but it is a start right? I hope that where ever you live your gas prices are starting do go down too. I think we could all use a break at the pumps.
That's it from me this week. I would love to chat longer but it is very late and I need to get some other things done before I can get to bed Oh!Just one thing. We had a bear in our yard earlier this week. We had 3bird feeders up and two of them were brought to the ground along with one of the limbs from our tree. So no more feeders. I hate that Wayne and I will not be able to see or hear the birds like we have for many years but this is the second year in a row that we have had this bear come through and be destructive. I guess he will have to find some one else to get food from.
I hope that all of you have a fantastic week. I will be back as soon as I have something else to share with you.Thank you very much for stopping by to visit me and for leaving a comment. I love hearing from you. Remember to stay safe and smile. :)