Another hectic week my way.  My goodness this year is flying  right by and I am having a tough time keeping up with it. Do you feel that way or is it just me ? :)
I have a card, a page and a photo to share with you this week. I hope you enjoy looking at what I've done. I made  a card this week for the PPA 87 -Technique Challenge- Punches.  
Here is my card.
Here is what I used.
Stamps: Elements of Style,Tiny Tags and Create a Cupcake. Cardstock: Very Vanilla, Riding Hood Red and Basic Black. Inks: Tea stain and Riding Hood Red.  DP: Love Letter.  Punches: Two step extra large and Jewelry Tag medium.  Accessories: Rosettes Vanilla and a tiny brad from Vintage trinkets. This card was easy to make. All products used are from Stampin'UP! with the exception of the round dies.
Here is the  page that I made for a challenge this week at  Soul Scrappers. My challenge will be going up on on Tuesday April 5th. If you like to make scrap pages or digital  pages then come join me. :) 
Although the background paper and all of the elements are not from Stampin" UP!, I did use the My Digital Studio to make my page.
If you like the title that I made for my page and you would like to use it on one of you photos or pages then please click here to get if free.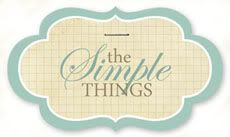 It has  been a few weeks since I last participated in the The Simple Things photo challenge.   This week I decided to take a photo of something that is a simple item that I use every single morning and evening.  I have a cup of  instant DeCaff and a cup of tea every single day. I have owned fancy coffee makers ( I make terrible  brewed coffee) and pretty tea kettles that were just too pretty to use. My tea kettle is simple and very useful and it's just right for me. :)
 
So there you have it. This is just a small part of what I have been up to this week. Like all of you I have so much to do each week and not enough time to play every day. Now that spring is here (despite the snow and the cold) I have lots of spring cleaning to do. I used to love to do my spring and fall cleaning but now...........not so much.  But it has to be done so I will be taking on that job very soon. If you have any simple  organizing tips to share I sure would love to hear them. My old way of organizing does not seem to be working for me any more.
I hope that all of you have a great week! I will post again as soon as I have something to share with you.  Stay safe (please), stay warm and remember to smile when ever you can. It really does make you feel good as well as those who are around you.  Smile. :)  Thanks for stopping by to visit me.