The title for this post is the first thing that came to my mind. Not very creative but it does explain the type of day we are having here in NH. :)
I have a few things to share  with those of you who visit my blog so I will get right to it.
I made a card using the PPA83 – Celebrity Color Challenge. The colors are Baja Breeze,Crumb Cake and Soft Suede.
Here is my card.
Here is what I used.
Stamps:  Clearly For You, Bliss,Sanded Background and Occasional Quotes. Inks:Baja Breeze, Crumb Cake and Soft Suede. Card-Stock:Very Vanilla, Baja Breeze,Soft Suede and Crumb Cake. I used the photo  corners punch, the Finial press embossing folder and Baja Breeze ribbon. All products listed are from Stampin'UP!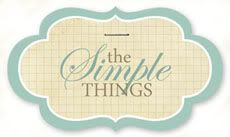 This is a photo of a healthy drink that I make every afternoon . I call it my berry smoothie even though it has more then berries in it. It is low in calories low in fat, is a good source of vitamins and fiber and it tastes like an ice cream frosty. It is so nice to have a treat that tates  so yummy. I found this smoothie recipe at It Works for Me  blog. Bobbi-Jo is a professional photographer and paper crafter. If you have never stopped by her blog you are missing out on a lot of the beautiful things she makes. I have changed the recipe ever so slightly to make it just the way I like it.
Here are the ingreients I use.
1/2 cup of blueberries
3-4 strawberries
1 banana
1/2 cup of Soy milk.
I blend it all together and in just a couple of minutes I have a delicious drink. Because I do not drink or eat dairy I use soy milk. You can use milk, yogurt or ice cream.  Or you can do away with the milk and just use the fruit ingredients above. There is no need to add sugar but  if you like your smoothies even sweeter then it all ready is  use splenda or sugar to taste. Let me know if you make it I would love to know what you think of it.
This week at Soul Scrappers I made a page for one of the challenge going on right now. Just like my card my page is also simple and I would love to share it with you. If you would like to see it larger then double click on the page.
 
 
 I used the MDS program to make my page. the word art is made by me. I decided to make another page about Wayne this time. Are you getting tired of seeing Wayne and I yet? :) The neat thing is that I will have another book made to give Wayne for his birthday this June. I think this will make my 5th book I have made just for him. He loves them and I love making them so it certainly is a win-win situation. 
Here is the word art that I made for my title. If you like it and would like to use it on a photo or one of your scrap pages feel free to grab it here.  Please remember that it is for personal use only. :)
I have had a busy week as usual. On Thursday after doing all of my errands and getting ready to go home I found myself driving through a white out! I am scared to death of driving in the snow. I can not tell you how many years it has been since I have driven it. As frightened as I was I knew that I had to get home so I kept going at 35mp hour. Fortunately everyone in front of me and behind me were all doing the same speed. Some drivers were pulling off the road because it was so difficult to see. Not too far away from where I was driving  20 cars had gone off the road into snow banks and the traffic was backed up for 3 miles. I had an angel on my shoulder that evening for sure. Today and tonight it is raining. Ah yes...... this is New england for sure.
I could keep chatting away but I'm sure that you have lots to do and places to go. I hope that all of you  have a wonderful week. Thank you for stopping by to see me. Remember, stay safe, stay warm and smile when ever possible.  Smile.:)