Just a little over a month and spring will be here. I know we can still get snow and cold weather but knowing that spring is right around the corner certainly make me smile. :) 
This week I have a card that I made for the PPA 80- Those Were The Days-Vintage Theme . I had a lot of fun with this challenge. I also have a Photo for The Simple Things challenge and a scrap page that I made and can also be found at Soul Scrappers.
Here Is My Card
Stamp Set: Easter Blossoms. Card-stock: Very Vanilla, Old Olive and Early Espresso. Inks: Pretty In  pink, Early Espresso Old Olive, and Tea Stain.  I used designer paper from  Botanical Gazette. I also used a rosette, Very Vanilla satin ribbon and a stick pin using pearls and a pink crystal. All products are from Stampin' Up! except for the pink crystal. Iused the sponging technique so that my card would look distressed.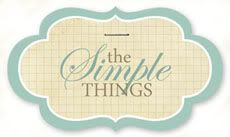 I call this photo Valentine Tulips because Wayne bought these for me yesterday while we were out Valentine shopping. As soon as we got home I watered them and placed them on my kitchen island so that  I can see them no matter where I am in my kitchen.  I know that I am nowhere near as good a photographer as all of the women who  play in this challenge, but I like playing along because it helps me to take a photo each week.  If it were spring, summer or fall I would be taking lots and lots of photos each week but in the winter it is difficult for me to get outdoors.  And because I  prefer taking outdoors shots because of the natural light taking photos indoors truly has been a challenge for me. :) 
The page that I am sharing with you is one that I made about a month ago. I know that I have shared this photo of Wayne because this is my favorite shot of him that I took on Christmas day. I decided to make a Christmas page and this will certainly end up in a book that I will be putting together of Wayne for Wayne.


I used the MDS program to make my page. The paper and elements are not form Stamin'UP!
If you would like to use the Word Art that I made for this page please feel free to click hereto download it. I hope to be sharing some awesome Word Art with you soon. I am still learning how to do this and learning on my own is lots harder then if someone were to teach me. But I will get there. :)
I hope that the weather has calmed down for everyone. We have had 5 consecutive days of no snow and it has been wonderful. Lots of cold weather but I think it is going to start warming up a bit this coming week. I am looking forward to walking outdoors again. With luck and some help from Mother Nature maybe the snow and ice will melt within the next few weeks. I sure have missed being outdoors.
Thank you very much for stopping by my blog and thank you for all of the kind comments that you leave.  I appreciate them and you. :) I will be back as soon as I have something more to share with you.  Stay warm, stay safe and Smile.
Happy Valentines Day!