It is Sunday and I have a few things to  share with you. But first......I hope that those of you who drop by my blog to check it out have had a wonderful week.  And that it has not been to cold or stormy where ever you live. Isn't it comforting to know that spring is on the way? Just 28 more days to go. Hooray! :)
Okay, I'm going to just jump right in and show you what I have done this week. First I have a card that I made for the  PPA81 – Sketch Challenge . I love participating in the sketch challenges.
Here is my card.
Stamp sets: Silhouette Sentiments (image), Elements of Style (image), and Create A Cupcake ( sentiment). Card-stock: Very Vanilla, Olive Green and Early Espresso. Inks: Crumb Cake and Early Espresso.  I used DP from the Botanical Gazzette series. I *love* this paper.  I used a n Early Espresso button and a Cherry Cobbler ribbon. I used circular dies and twine both of these items are not from SU. I used the stamping off technique for the background behind the bird image.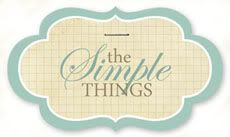 Here is my photo for The Simple Things challenge. I chose to take a photo of my  brushes this week. They are my go to brushes any time I want to dirty up a background or make my card look distressed or vintage.
I also have a page that I made this week for a challenge at Soul Scrappers as well as a word art that I made. Please feel free to download it if you like. :)
I chopped a little bit off of my page by making it larger but I wanted it to be easier to read my journaling if you wanted to. Besides, I did not have anything important on the right side so I was able to chop it off. :)  The challenge is What is your style and as you can see mine is a T-shirt ,a pair of  jeans and Nikes. I dress casual and have been since I stopped working. It was a fun age to do and now I have another page for my children's second book about me.  Just go here if you would like to download the word art that I made. :) Wayne wanted to know why I repeated the words Forever In BlueJeans. I explained to him that I wanted my word art to have a shadow and he asked me why. I told him that I thought it looked good that way and that I wanted to try something different. Hope you like it.
 


I hope it is getting warmer where ever it is you live. It certainly has been a very cold winter this year and a very expensive one ! I can not believe the price of oil. Wayne and I live in a house that is not considered big and yet we are paying lots to heat our home. Yet another good reason for spring to get here. I'm sure that you did not visit my blog to hear me go on about heating prices. :) So on that note, remember to stay safe, stay warm and Smile. :) Thanks so much for stopping by to visit me.