Today I have a card to share with you as well as two photos that I took. On photo is  showing my word from 2010 and a photo of the new word I have chosen for 2011.
All items that I used to make my card are from Stampin'UP!
Here is my card.
Here is what I used.
Stamps: Filled with Love stamp set. Card-stock: Whisper White,Crumb Cake, Pretty In Pink and Cherry Cobbler. Ink: Cherry Cobbler. Punches:Full Heart Extra -large,3/16 corner punch  and a small heart punch not by SU. (oops!). I used the Scalloped Heart of Hearts embosslits die, Deck the Hall large Crumb Cake button, small Crumb Cake button from the Neutrals designer buttons and Cherry Cobbler seam binding and twine. This was a super easy cad to make. :)  I hope that SU will bring back the big buttons next year and will also bring back the Seam binding ribbon. I love working with it.
Next up is a photo that I took last week for this weeks photo challenge at Simple Things. My photo is a reminder of what my one little  word was for 2010. Every January, like so many others I choose my one little word that I believe was an idea started by Ali Edwards.  When I was in Walmart a few weeks before Christmas I saw a lovely coffee cup and plate that had the word "Hope" on each of them. They were only 3.00 each and I had to have them. I think that they are made by or designed by Better Homes and Gardens. These two items, as simple as the may seem and for such a small cost have made me smile often since buying them. I decided that I wanted to compose a pohto of the two pieces together and at some point make a  digital page using my photo to remind me and my family of what my word was in 2010 andwhat the word"Hope" means to me.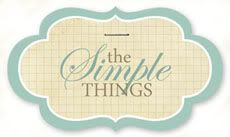 And here is my word for 2011.
 

I chose the word "Peace" for many personal reasons and for obvious reasons. One obvious reason that comes to mind right away is that I would love to see the world at peace if not in 2011 then at some point in my life time. Maybe I'm a dreamer but I can  still "hope" for "peace".  Wayne bought the necklace above for me for Christmas. The word behind it is hope. :)  How cool is that?
If you choose a word each year as *your one little word* I would love to know what it is.
Our snow is melting away but it is only 14 degrees this morning and the cold is back so I don't think that we will lose much more. When I look outside my house there is only a few inches left and lots of bare spots. My driveway is completely bare and I am loving it.  But this coming weekend we may get a big snow storm. Well it is winter in NH after all so I expect that we will be getting something. Oh wait......we did have an earthquake yesterday. It was only 3. 2 I think. Not sure right now. Nothing happened thank goodness. It certainly has been a strange winter for us so far.
I will be back when I have more to share with you. Thank you for stopping by to see me. Stay safe , stay warm and Smile. :)