What do you think of my blog title this week? I have tried over and over to be more creative with my blog post titles and just can't seem to come up with any thing fun. So I decided to to put just "Sunday" which is the day that I am writing my post rather then putting " A Card, A photo. A page and more photos." :) I agree not very catchy but different for me.
So here is what I have to share with you this week. A card for the  Challenge, a page that I made for an upcoming  Soul Scrappers Challenge, a photo for the Simple Things Challenge and some photos I took this week of the snow and of Wayne. I hope that something will make you smile. :)
I made my card for the PPA 77 -Sketch Challenge. I love their sketch challenges and I loved looking at all of the beautiful cards that  have been made for this challenge. There are lots of very creative stampers out there.
 Here is my card.
 Here is what I used:
Everything used is fromStampin"UP! excpe for the tiny heart punch. Stamps: Word Play stamp set.  Card-Stock:Early Espresso, Very Vanilla and  Rich Razzleberry. Ink:Early Espresso. The embossing folder I used is Vintage wallpaper. I used the full heart extra large punch a small punch(not su)  and a Rosette that you can find in the newest SU mini catalog. Easy peasey!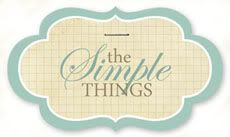 Here is my photo for this weeks Simple Things Challenge.
 
 
 I love taking photos of our brook . There is always something interesting about it and going on around it. Wayne and I have seen deer,  down there, have found huge turtles  even one that is considered on the endangered list in NH. I take lots of photos of wildflowers around our brook as well as dragonflies, butterflies, our children, grandchildren and so much more. It is a very peaceful place to walk to and just think or to take photos of  Wayne and myself. :) I love trying to get that one special photo of it every single season of every year. I love this one that I took with the snow. So far it is my favorite one of this winter season 2011. If you would like to see it larger then just click on the photo.  
 Tonight I am sharing a page that I made for a challenge that will start on Jan. 25 at Soul Scrappers. If you like to scrapbook I think you will love this challenge. It is easy to do and lots of fun too. :) Oh and speaking of Soul Scrappers "It's our 1 year anniversary and we're celebrating with Glee Club!" Lots of challenges, games and prizes will be given away. Check it out.
This is Molly, at her 8th grade gradutaion .  I used the MDS program from Stampin'UP! to make my page. It looks like more books will be made for my girls. :)
Last but not least. We have had 3snow storms this week. So I have been at home most every day. However, I did at least get outdoors long enough to take quite a few photos of  Wayne snow blowing the trees, etc..  I chose only 2 photos to share because my post is  all ready too long. I hope you like them.
Poor Wayne. He has had to snow blow and shovel the snow from the driveway and stairs 3 times this week.  He also had to shovel snow off of the garage roof too.
 
 
I took this photo  from my back door right after our last snowstorm. The wind was whipping so lots of snow was blowing around. It was only in the 20's  that day but at least the sun came out for a bit. I zoomed in quite a bit so that I could get my 3 favorite trees located above our brook.
OY! I think I have made this post too long.  Thank you for stopping by to visit me. Next time I will keep my post shorter.  I hope that you have a wonderful week. Stay warm, stay safe and Smile. :)