I have been blogging once a week for at least the past month. I'm finding that once a week is good for me. Perhaps I will blog more often in the future but for now I'm liking the way that this is working out for me. Just think, one less blog to check each day. :) I have a few things to share so grab a cup of coffee or tea, relax and enjoy your visit. Well, I hope that you will enjoy visiting me. :)
I try and keep up with the weekly challenges that I like to participate in. Sometimes life gets in the way but  this week I was able do the challenges and then some. The then some I will pass on because You would be reading my blog  too long and you probably have lots to do.  I am going to try and keep this as brief as possible.
First up is a card that I made for the PPA 78- CAS- Element of Style-Bows Challenge. What a fun challenge.
Here is my card.
Stamp Sets:Elements of Style and Filled with Love and Bella Toile Background stamp. Inks: Crumb Cake, Early Espresso and Cherry Cobbler. Card-stock: Very Vanilla, Crumb Cake and Early Espresso.  I added a Cherry Cobbler seam binding ribbon.
My next Challenge was for Soul Scrappers. We are having a Glee Club celebration in honor of Soul Scrappers celebrating their first anniversary.The challenge is to make a card for the Classic rock mini challenge CRMC#1
I took my inspiration for my above card from my card that I made for the CRMC #1 challenge. If you have time perhaps you can join us. :)
Here is my card.
 I made it by using the MDS program from Stampin'UP!
Here is my submission this week for the Simple Things.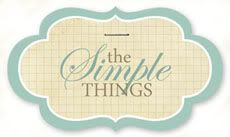 Yet one more reason for me to be grateful and happy that I married this man. We have had so many snow storms for the past few weeks. No matter how cold it has been out  or if the snow was still coming down, Wayne went out last week to snow blow our driveway and shovel off our stairs before he went off to work.  It makes me smile to know that he loves and cares enough about me to make sure that I can get out of my home if need be. This photo of Wayne makes me smile and reminds me of how very lucky I am to have him in my life. Can you see the snow coming down around him and on him? Just click on this photo if you would like to see it larger.
Last but not least I made a page  about Wayne in the snow for a Soul Scrappers Sketch challenge.

 As you can see I added the photo of Wayne that I love. I used the MDS program to make my page. I also added my very own word art to it. I have been slowly learning how to make Word Art and I'm having a blast with it.  I can not share the exact word art that  I used with the snow flakes behind it because I purchased that brush for private us only. But I can share my "Got Snow? with you. If you do not make digital pages you can still download it and put it on your photos like I do to many of the photos that I have shared with you. Please remember that it is only for your private use.  
Here is the Word Art.
Just click 4Shared. Once yo are there the image will look all blacked out. Just ignore that. Scroll down a little and you will see download. Click on that and download the the file. It's free and although a very simple Word Art is from me to you. :) I hope you will be able to use it.
Lots more snow coming our way Tuesday-Thursday.  I sure hope that this will be our last week of getting more then one snow storm. I for one sure am tired of having to stay indoors and not being able to keep my appointments. On a positive note spring is only 2 months away. :) Hooray!  I hope that all of you will have a wonderful week. Stay warm, stay safe and don't forget to smile whenever you possible. Smile. :)