Hi Ladies. I have a very simple birthday card to share with you  today. I made my card using the PPA71 Color Challenge. My card took me about 15 minutes to make. Five minutes to think of what I wanted to make, 5 minutes to cut out everything I wanted to use and about 5 minutes to put it all together.
Here is my card.
Here is what I used.
Stamp set: My sentiment is from Occasional Quotes.Ink: Early Espresso. Card-Stock:Regal Rose, Pear Pizazz, Early Espresso and Whisper White. I used the Designer Series Pack-In Color. It is a hostess gift.  I used the Sizzlits Big Bold Cupcakes, the Photo corner punch, the Perfect Polka Dots embossing folder, Dazzling Diamonds, and Early Espresso satin ribbon. These products are all from Stampin'UP!  Yet another simple and easy card to make.
The next thing that I would like to share with you is my photo for this weeks "The Simple Things"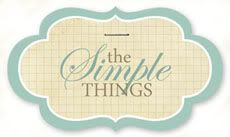 Reading
This week I need to have all things simple. I have too much on my plate and not enough time to get it all done. I am feeling stressed. I took this photo of Wayne while he was reading the mail. He had no idea I was taking this photo. Most of the time he has no idea that I am looking at him through the lens of my camera .   I love taking photos of  Wayne........just simple every day photos. It brings me joy and happiness and makes me forget about all of the "stuff" that I need to do. :)
I hope that what ever it is you have to do this week that your able to find a way to keep your days as stress free as possible. There is a lot to be said about keeping it simple.
We are now having cold weather at last. I have a feeling that I will be calling for oil again by the end of this week. OY! No snow yet but I've heard that it is on the way very soon. We have been very lucky to make it this long without snow and I am very grateful for that.  I hope that all of you are staying safe, staying warm ad smiling each day that you can.  Thank you for stopping by to visit with me. I will be back as soon as I have something more to share with you. :)