Tonight I have a card and a photo to share with you. I used the PPA74 sketch challenge  to make my card. I love their sketch challenges and try to participate in them when ever possible. My photo is for The Simple Things  photo challenge.
Here is my card.
 
 
A little bright looking isn't it?  The stamps sets that I used are Filled With Love from the SU catalog. The next set is called Valentines Defined and is a brand new set in the SU Occasions mini catalog that will be available on January 4,2011. I really like this set a lot! The DP is also new  as well as the little Rosette that I used.  The punch is the double scallop ribbon border. Card-stock: very Vanilla, Crumb Cake and Real Red.  Inks: Real Red and Crumb Cake. Last but not least I added a Real Red satin ribbon. It seems strange to be making a Valentines Day card the day after Christmas but this is the set that I was drawn to. :) I Hope you enjoy the card.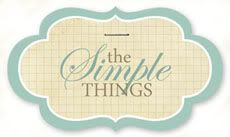 I don't think that I will ever be able to take enough photos of Wayne. You would think that after 14 years of being together I would get tired of looking at his face.  But I don't. :) On Christmas Eve afternoon I asked Wayne if he would please sit near our little Christmas tree so that I could take his picture. I know that he really did not want to but being the sweet man that he is he did it any way. I wanted to remember his look on this day. A day at home of relaxing .  No muss no fuss just hanging together.  I love this mans face!
 
 December 24.04
I hope that all you enjoyed your Christmas. We did despite not having a white christmas. I have photos that I took during the Christmas holiday and will share them in a Smilebox as soon as I get them all together.  Wayne and I enjoyed spending time with some of our children and grandchildren. It is always so nice when we can see them. We had a wonderful Christmas.
I have to keep this post short tonight due to the blizzard we are having. We  are going to get lots of snow, winds up to 50 mph and could lose our power tonight. So right now we are in a winter warning. I should go and get my flashlights ready and shut down my computer. It is quite noisy outside. :(  I will be back when I have more to share with you.
I hope that you are staying safe, warm and that you have lots of things to smile about. Smile. :)